---

Myitkyina and storm damage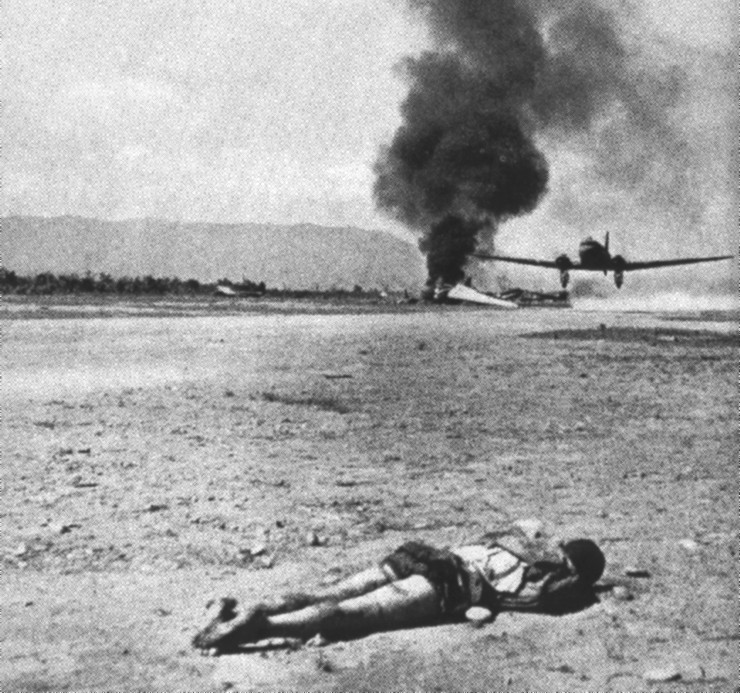 HMSO 1945
On May 17th 1944, Myitkyina airfield-main link in the old India China air route-fell to a surprise attack by Merrill's Marauders. They had appeared suddenly on the air-strip after a 20 day march along secret jungle paths. This photograph shows the airfield during a counter attack by enemy aircraft. A C-47 of the 27th TCS takes off through the smoke of # 42-100068. In the foreground lies a dead Japanese. Myitkyina, the town, fell ten weeks later.
---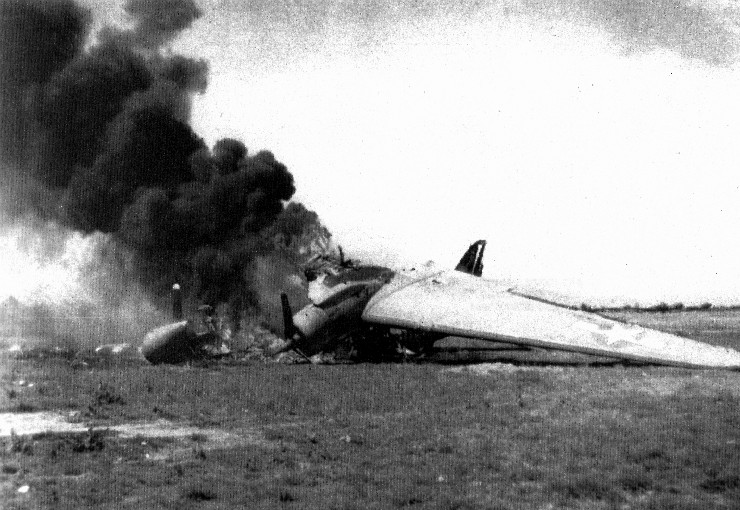 USASC thru 27 TCS
# 42-100068 Shot down by enemy aircraft over Myitkyina
Burma, May 18th, 1944
"Taking, and holding, of the strip went back and forth between a small band of Marauders and the enemy. Gliders carried in support troops and the strip, and the strip only, was secured -- at least to a point. Directly there after we started flying in ammo and supplies. Captain Potter was jumped by four Oscars, over the field, and shot down.
There was supposed to have been fighter coverage however, due to shortage of fuel, they had departed for their home base. In doing so they transmitted in open English that replacements would be on site in a little over five minutes. Command reprimanded the pilots as they were supposed to have transmitted all messages in code. At the time four Oscars were hovering in the clouds over the field and jumped Potter. One Oscar crashed and the other three, after downing our aircraft, strafed the field. We had other C-47s on the ground and they looked like punch boards thereafter. The Oscars were taken care shortly thereafter as our fighter replacements arrived on the scene.
We got our aircraft out of the strip but to say they needed a lot of patching would be understatement of the year. The work was done with anything our engineers could get their hands on as we received very little supplies due to tension between ground and airfare commands in obtaining same".
---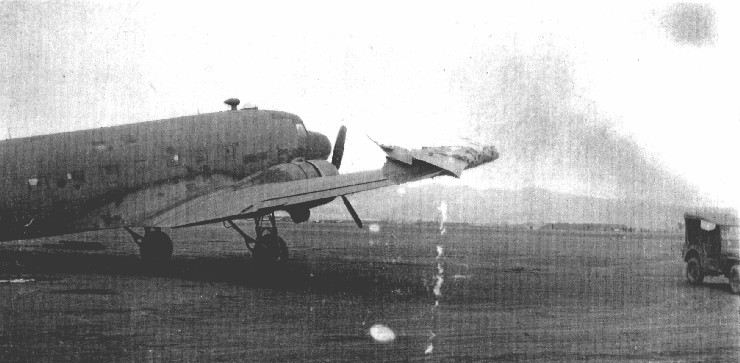 27 TCS
# 41-19480 Battles a thunderhead, loses six feet of her wing, yet returns to base for yet another mission. Even Mother nature and her mean weather cannot keep a "Grand Lady" from her mission.
Yunnanyi, Yunnan, China 1945

---