---

Insignia history 1942-1945

"FLYING TAXI"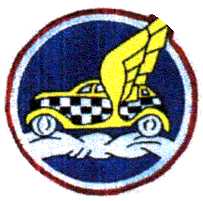 Aircraft Marking
The Special Service Division, U.S. Army Air Forces, gave official approval of the "Flying Taxi" for marking of the aircraft of the Twenty Seventh Troop Carrier Squadron on 25th February 1943, per authority contained in AG letter 400. 161 OB-S-A 7 December 1942 subject "Army Air Forces Organizational Designs.
Over and through a light blue disc, border red, piped white, a black and white checkered taxicab, winged gold, resting on a white cloud, formation in base, as per record drawing 28655A.C
---
"HUMP T DUMP"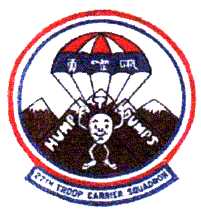 Aircraft Marking
On a argent and blue disc bordered red, argent and blue, a cartoon character depicting "HUMPTY DUMPTY" argent, riding a parachute with mountain tops in the background. The parachute is red, blue add argent, repeated blue and red. The lower portion of the parachute is laced with Chinese, Burmese and Indian characters depicting the name of each country.
The design contains the unit motto "HUMP T DUMPS", depicting flying over the "Hump" and "Dumping" their cargo.
---
Special Notes
The "Flying Taxi" insignia was used by the squadron from it's inception through it's arrival overseas. Interviews with former troopers confirms that the design was drawn by a member of the squadron, a former employee of the Walt Disney orginization, name unknown.
The "Flying Taxi" was again placed into service with the assignment of RASMUSSEN, Major James H.S. as commander of the twenty seventh in it's later days of the war in China.
The "Hump T Dump" patch was designed by HOHLMAYER, S/Sgt. Earl J. per the request of BURWELL, Major Lewis C., Jr. commander of the unit at the time. It was his desire to have an insignia more closely related to the squadron's efforts in the China Burma India Theater. Sergeant HOHLMAYER was serving in the Twenty Seventh as a parachute rigger.
Although never submitted to the Special Service Division of the United States Army Air Forces for approval, it did receive the endorsement of the Tenth and Fourteenth Air Force high commands.
The rocker at the bottom of the design, carrying the Twenty Seventh's name, was added in the post war years. The design in it's entirety was adopted by former members of the squadron assembled, by unanimous vote, in the post war years.
---