---

Bundles for Britain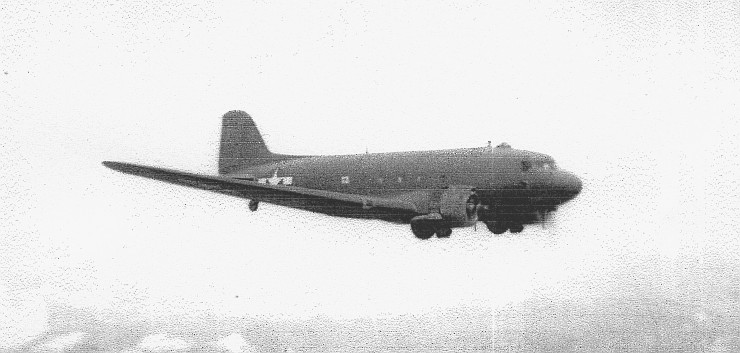 27 tcs
"Abel Five" #43-16425
Seeking her family in need amidst the jungles of Burma
---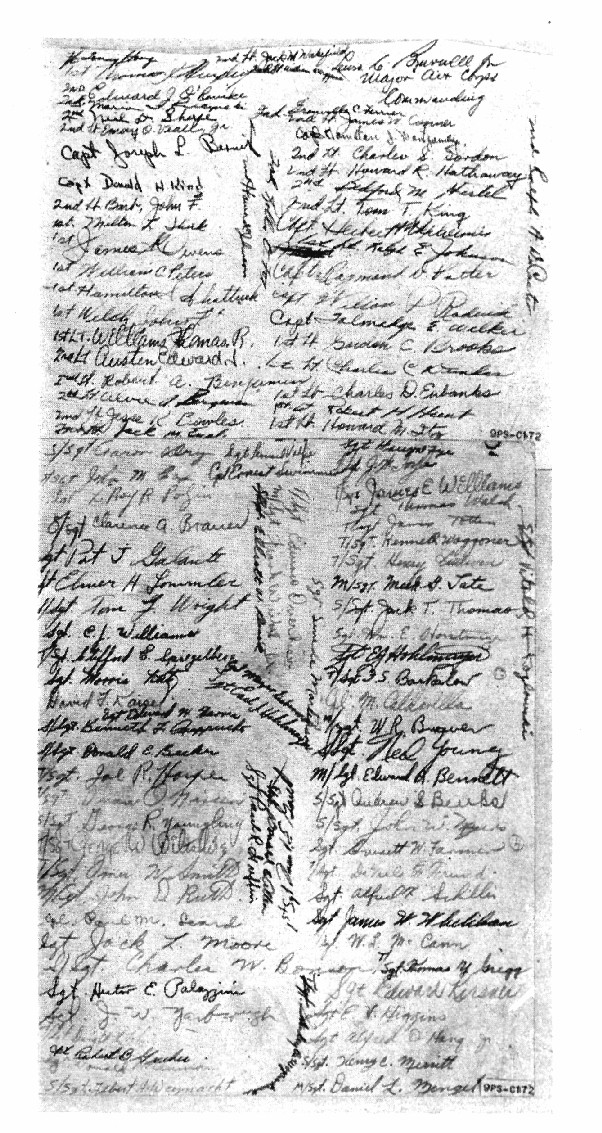 4th February 1944
The 27th air-drop luxury supplies to the British troops


This bundle from the U.S.A.A.F. officers and men whose signatures appear below conveys most cordial greetings and very best wishes for your continued success.
This business of international relations has gotten a lot of lip service. We feel there should be less talk about it and more done about it. The British officers and men with whom we work have been courteous, friendly, hospitable and helpful. We hope that this little gesture will in some small measure demonstrate our appreciation. The variety of contents should reveal to you the spontaneity and voluntary nature of the contributions.
We don't have a great many "extras" but by your standards, our lot is a luxurious one. The boys have gotten a great kick out of sharing a bit of it. Much good luck to you and to use a good old American expression "give them the works fellows".
NB. The men of the 27th received very little in luxury rations but did dig down into their meager supply forwarding soap, shaving cream, spam, candy, cigarettes and the like.

Reply from Brigadier Fergusson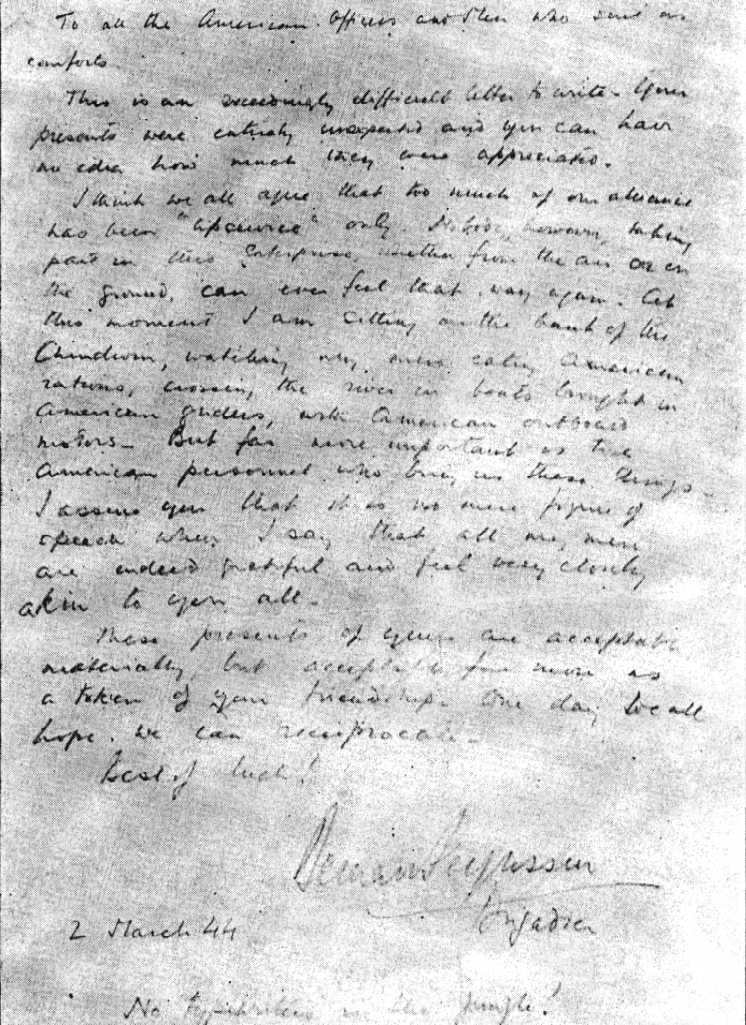 ADM HQ. ENTERPRISE
Q/37
9 March, 1944
Major BURWELL
27/315 Sqns., USAAF
Letter received from Brigadier FERGUSSON, Comd. ENTERPRISE is fwd.
"To all American officers and men who sent us comforts. This is an exceedingly difficult letter to write. Your presents were entirely unexpected and you have no idea how much they were appreciated.
I think we all agree that too much of our alliance has been "lip service only" . Nobody however, taking part in this enterprise whether from the air or on the ground can ever feel that way again. At this moment, I am sitting on the bank of the Chindwin, watching my men eating American rations, crossing the river in boats brought in American gliders, with American outboard motors. But far more important is the American personnel who bring us these things. I assure you that it is no mere figure of speech when I say that all my men are indeed grateful and feel very closely akined to you all.
These presents of yours are acceptable, but acceptable far more as a token of our friendship. One day we all hope we can reciprocate."Best of luck!"
Bernard Fergusson
"Brigadier"
2, March 1944 "No typewriters in the jungle!"
---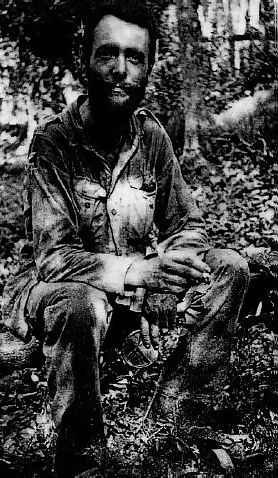 Brigadier Bernard Fergusson, The Black Watch (Royal Highland Regiment)
Commander of 16 Infantry Brigade, waits on the bank of the Chindwin river for gliders to bring in boats/rafts for crossing.
16 Brigade Consisted Of:
2nd Queen's Royal regt.
2nd Leicestershire regt.
45th Reconnaissance regt.
51st/69th Field regt. Royal Artillery
---
Attested 2000: Harry A. Blair
Historian 27th Troop Carrier Squadron
La Crosse, Wisconsin, USA

---