---

---
KICKING UP A STORM
---
Flying out of Slyhet, Assam India I flew many mule-hauling missions which will remain in my memory forever.
On one flight a mule started a fuss as I was climbing over the first ridge of my flight pattern. Immediately thereafter the other four joined in. The kicking plus the usual turbulence above the ridge made for much anxiety as I attempted to keep the aircraft on course.
During a lull, one of the three British troopers in the rear section called on the intercom "Old chap, are these animals bothering you?" Whatever his concern, it was not reflected in his voice. British understatement and composure has always intrigued me I replied that everything would be okay if they remained as they were. He came back, "Should they give you any more trouble, do let us know We can always shoot the bastards."
Although my missions never required such drastic action some of our crews had to proceed with the colt 45 process. I even know of one instance where one of the unruly animals kicked a hole right through the fuselage
Although the missions might seem a questionable action of war to some these stubborn animals were the life line of transportation to the Chindit forces on the ground in the jungles of Burma.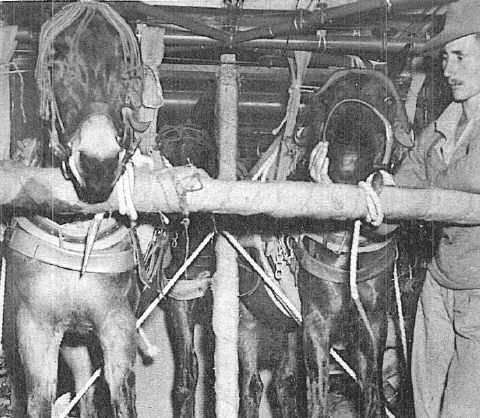 ---
Welch, John F.
East Aurora, New York
18 April 1990
---